Gallbladder stones or gallstones are solid particles formed in the gallbladder by bile cholesterol and bilirubin. If stuck, they can cause unbearable pain. To treat gallbladder stones, some medical methods can be used to break or dissolve them. However, in most cases the gallbladder needs to be removed.
Contents:
Causes of Gallbladder Stones
Symptoms of Gallbladder Stones
Treatment of Gallbladder Stones
Gall Bladder Stone Specialist Hospital in Chandigarh
Causes of Gallbladder Stones
When the bile comprises of too much cholesterol, bilirubin or bile salts, or when the gallbladder does not empty itself properly, it can cause gallbladder stones. They can also be caused by cirrhosis, biliary tract infections, or inherited blood diseases like sickle cell anaemia.
People who are obese, diabetic, over the age of 60, having rapid weight loss, taking cholesterol lowering medications are more prone to the risk of getting gallbladder stones.
Symptoms of Gallbladder Stones
Following are the symptoms of gallbladder stones:
Intense discomfort in the right shoulder and middle abdomen
Heartburn and other digestive issues
Vomiting and nausea
Chills with a high temperature
Urine with a dark tint or clay colour faeces
If you have abdominal pain which isn't being relieved by over-the-counter medications or you are suffering from fever, sweating, chills, jaundice, or vomiting, booking an appointment for Gallbladder stone Treatment in Chandigarh is strongly advised.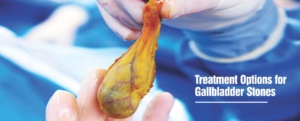 Treatment of Gallbladder Stones
Gallbladder stones cannot be cured permanently. Although there are medical options for removing stones or alleviating symptoms, they are only temporary. If a patient is experiencing the above mentioned symptoms, the gallbladder should be surgically removed.
This procedure of removal of gallbladder is called cholecystectomy. Cholecystectomy can be done through an open surgery or a laparoscopic surgery. Laparoscopic cholecystectomy is a popular treatment which is used by doctors worldwide to remove gallbladders in a minimally invasive manner.
A laparoscopic surgery may be started and subsequently switched to an open surgery in specific instances. Gallbladder stones that are asymptomatic don't need to be treated.
Also Read: https://healinghospital.co.in/laparoscopic-surgery-what-is-it/
Gall Bladder Stone Specialist Hospital in Chandigarh
Healing Hospital is a super-speciality hospital that specialises in gallbladder stone treatment in Chandigarh. Healing Hospital has some of the best general surgeons in the country who provide the best treatment for gallbladder stone treatment.
In these Covid times, we are committed to the well-being of our patients through thermal screening, social distancing, clean rooms, sterilised surgical equipment, and mandatory PPE kits.